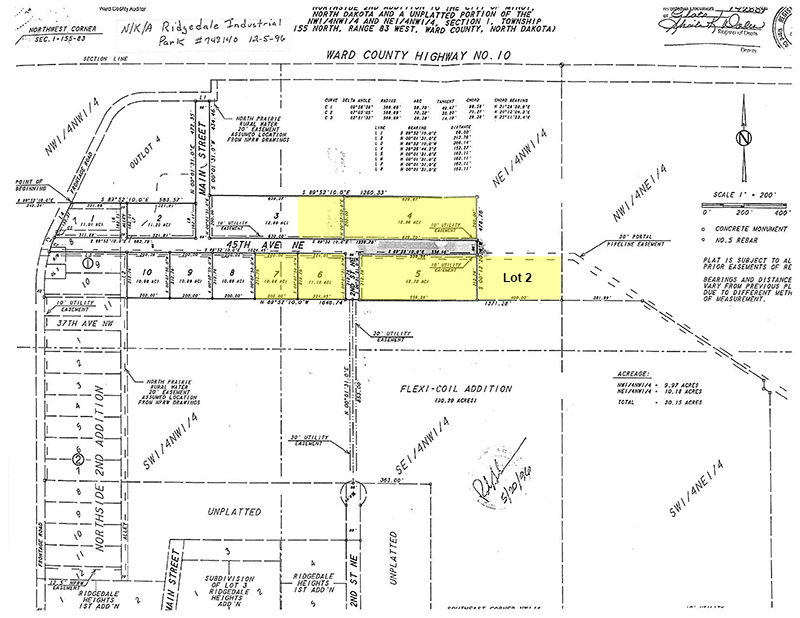 Land, Zoned M-1:
There are two lots available, four undeveloped lots, and one developed lot that has additional space for further development. These lots have city water and sewer available, with one of the undeveloped lots, the water/sewer is stubbed into that lot. Each lot has paved streets and street lighting and is set in a rural setting (ie., with ditches, no curb and gutter). These lots are all zoned M-1, and located in the Ridgedale Industrial Park addition in the northern section of Minot along Broadway (Highway 83) and Ward County 10 (46th Avenue NE).
There is also available a 2.35 acre lot, zoned C-2/R3 designation, light commercial/multiple residential with higher density possibilities. This lot is abutting the city limits of the City of Minot.
These lots range in size from one acre to 2.49 acres.
Lot #3
Developed Lot, with 200 ft. x 250 ft. remaining for further development
Lot #6
Undeveloped Lot, 212.76 ft. x 224.05 ft., 47,669 sq. ft., 1.10 acres, with water and sewer put into the lot
Lot #7
Undeveloped Lot, 200 ft. x 212.76 ft., 42,552 sq. ft., 0.98 acres
Lot #2
Undeveloped Lot, 278.76 ft. x 299.87 ft., approximately 102,366 sq. ft., 2.35 acres.
Offered by: Northridge Property Management, Inc. - 111 45th Avenue NE, Minot, ND 58703