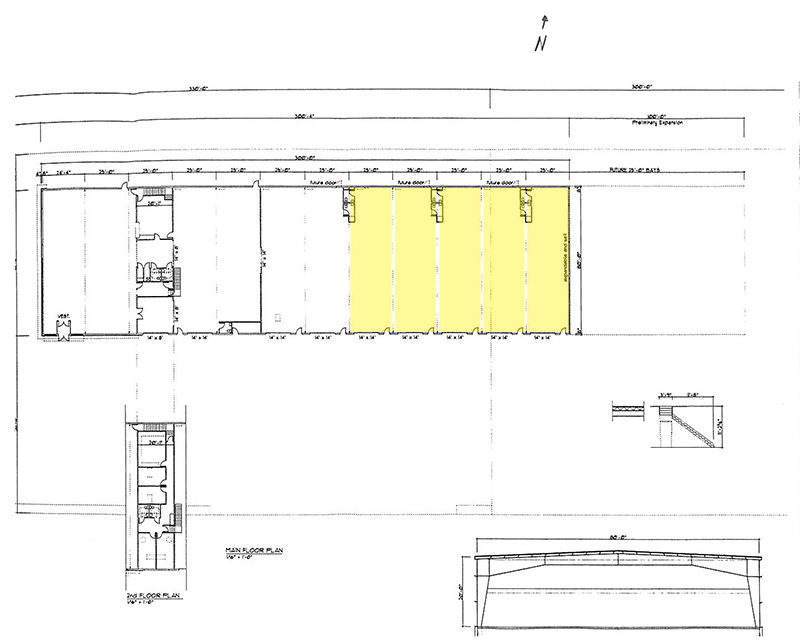 There are currently five remaining bays or truck condos (highlighted in the picture above):
There are five bays remaining and available for use as truck condos, or build to suit. The bays are 25' by 80' wide and long enough to allow a full length tractor/trailer unit to be driven into it. The bay is equipped with one walk-in door and a 14' by 14' overhead door with operator. The bay has a fire extinguishment system installed, along with outside house lighting.
Each bay has its own utilities, such as electrical and natural gas, telephone, internet, and cable TV. The water and sewer is part of the entire building structure and the garbage disposal is also included. The unit is heated by in-floor heat coils, heated by a natural gas boiler. The floors also have floor drains that drain into a central sand/oil inceptor. Each unit also has the plumbing rough-in for a future bathroom with a shower, if needed.
Also available is a smaller condo, a 30' by 60' unit condo in another location. This unit is located in another condo complex at 400 46th Avenue NE, Suite #5. This unit also has in-floor heat, ceiling fans and a bathroom with a shower already installed. This unit too has a separate walk-in door and a 14' by 14' overhead door and operator.
Offered by: Northridge Property Management, Inc. - 111 45th Avenue NE, Minot, ND 58703